Share Wing Goes Global from Japan
We will create new businesses that lead to wellbeing industry
Mission

Providing a place and services to revive the mind and body
and services from Japan to the world, and increase the number of healthy and happy people

Our Business

•providing and development of the wellbeing service and contents
•Town development plannning centered on the Japan's cultural heritage such as temples and shrines
•Consulting business related to temples and shrines
Our Business
Consulting Business
for temples and shrines
for corporate
for goverment
Personalized service and content of temple brands that renew the mind and body
OTERASTAY
New Brand and Service
Collaboration with temples and priests with a social entrepreneurial mindset
Creation of new businesses and projects for each region and social issue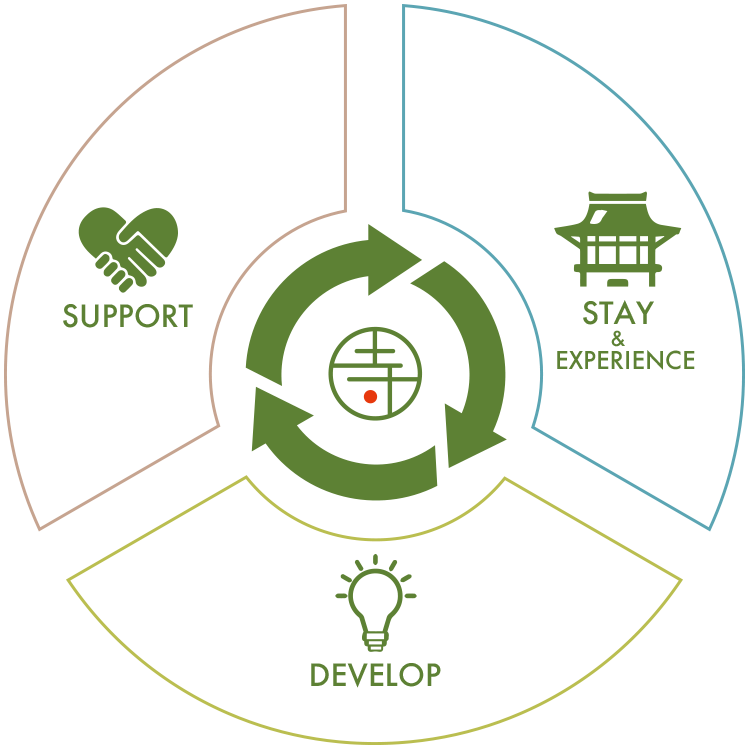 Social Venture Incubation in the temples and shrines
Company Profile
Company Name

ShareWing, Inc

Head Office / Tokyo Office

CryptoBase@NIB SHIBUYA
SakuragaokaFrontⅡbuilding 3F,16-13 Sakuragaokacho,Shibuya-ku,Tokyo View Access Map

Takayama Branch

Temple Hotel Zenko-ji, Tenman-cho, Takayama-shi, Gifu(TEL:0577-32-8470)

Mail:

info@oterastay.com

Founded

6th of July 2016

Number of employees
(including directors, employees, and part-time workers)

16

CEO

Mai Sato

SNS
Team Member
The business professionals with the unique backgrounds and special monks required to operate innovated temple business form a powerful organization.



President and Representative Director/CEO

Mai Sato

Born in Saitama,Japan. Graduated from Waseda University with a degree in Sports Science.From 2003 to 2005,Will Capital Management, an independent venture capital firm. From 2006 to now, founded Hotmark.Co.,Ltd, spa and sauna planning company.In 2016, co-founded Share Wing.Co.,Led.
Life work:Research and implement the latest health, beauty and wellness trends.

Board of Directors

Hiroshi Ueda

Born in Osaka,Japan.Graduated from Doshisha University. In 1999, he founded Gaiax, Inc. with his brother, Yuji Ueda (current president), and was in charge of recruitment and corporate sales.
In 2013, founded Duck & Force Inc. to promote co-creation communication using hot springs. Travels to hot springs in Japan and the Northern Hemisphere for interviews.Traveling, reading, and visiting bars around the world and Star Wars is favorite and life work.
Masaharu Suzuki

Business Development, Operation

Kaiji Yamamoto

Operation, Monk

Tomoko Shibuya

Genjyun Kondo

Advisor, Monk

Yoko Tanigaki

Producer, Ex-president of Hotel chain

Naoko Unryuin

Promotion, PR

Takashi Onoda